If Instragram feed required, then enable it by checking the "Show Instagram" checkbox.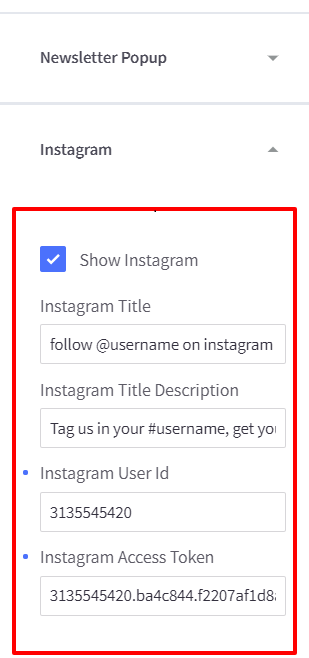 1.1INSTAGRAM TITLE
Provide Instagram feed block with a title, if required.
INSTRAGRAM DESCRIPTION
Provide Instagram feed with a description, if required.
NOTE: Bigcommerce defualt field 64 character limit apply for both Title and Description
1.2 INSTAGRAM USER ID
First, please generate your Instragram access token here, http://instagram.pixelunion.net/
Access token will look this, 3835662496.ba4c844.f2207af1d8a44580a261caa943f4f941 Instragram User Id is first 10 numeric value of the access token generated. For example, first 10 numeric value of the above access token 3835662496 is what the instagram user id. Enter the Instagram User Id in the field.
1.2 INSTAGRAM ACCESS TOKEN
Enter the generated access token in the field.